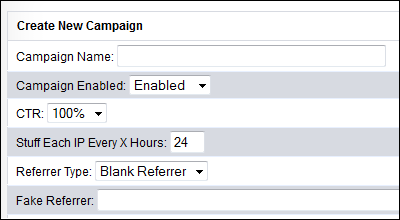 Description: This script allows you to cookie stuff your site's traffic with affiliate cookies.
The script allows you to blank / remove & also fake the referring URL, use a CTR controller on your campaigns, include an affiliate link rotator, block/allow referring URL's & IP's & more!.
Unlimited campaign allowance.
Click Here To View A Full Screenshot
Dynamic Campaign Generation Through Our Unique Admin Panel
Self Hosted Script

Run Unlimited Campaigns
Blanks Referring URL For All Browser Types (Where Flash Is Supported)
Ouputs Stuff Code In HTML & PHP For Fake Referrer Pages
Full Log, Hit, Stuff, Block Tracking Including Detailed Information Of Each Hit
Ability To Stuff Users Every X Hours
Affiliate Link Rotator
CTR Controller
Enable / Disable Campaigns Instantly
Custom Images / Image Names
Allow / Block Referring URL's
Block IP Addresses
Light-Weight Database & File Storage System
Easy Integration With LinkRefer6 To Fake Referrer To Google, Twitter & More Referrer Options
This is a flash cookie stuffer script. Cookie stuffing is the act of forcing a cookie into a browser without your affiliate's landing page ever appearing on the users screen, thus earning you commission for any sales that this user will make.
This is an extremely blackhat script & should be used only where you have been given permission to use it. BlackHatToolz will not be held responsible for any losses caused by this script or by any misuse of this script.
Strictly not to be used with the eBay affiliate program.
Click Here To View A Full Screenshot