Private Forum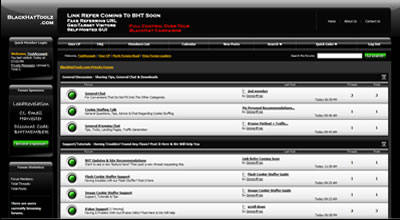 Description: Our forum is there for our members to communicate with each other, sharing advice and tips. Our forum is not indexed or viewable by anyone other than our site's members.
Full of exclusive tips, methods & downloads, this area will be sure to keep you busy!
Our forum also includes support sub-forums for our script & applications.
Jam packed with tips, methods and opportunites you are welcome to join our community, mix with the members and even find profitable business partners!
Want to see a new feature on our site? Need a hand with a script, installation or usage? Our forum is here to help you!
We take all suggestions seriously and if you think of any features that you feel would improve your stay at BlackHatToolz then add a thread to our suggestions area and we will see what we can do!
Below are just a few of the guides, methods & exclusive scripts available in our forum:
AutoBlog Buddy Automatic Content Generator Bot
Ultimate Image Scraper Bot
Flash Cookie Stuffer Script
StumbleUpon Bot
Skype AutoResponder Bot
WeHeartIt Bot
LinkRefer V6 Referrer Faking Portal
Wanelo Bot
Pinterest > Tumblr Poster Bot
Pheed Automation Bot
Tagged Automation Bot
CS Forum Finder
Fake Traffic Generator Bot
Reddit Bot
Keek Bot
YouTube Domination
Tweeter Traffic
Image Cookie Stuffer
Viral Twitter Script - OAuth + Old Rest API
Buzz Gateway Viral Edition
Buzz Gateway Social Edition
LinkRefer Click Tracking Portal
Mailing List Email Manager
Targeted Google Email Scraper
Google Suggestions Keyword Scraper
Hotmail Email Account Checker
MySpace Profile Image Scraper
Download Page Finder Script

Free Product Method For iFraming
iFramer Click & Drag Script

iFrame Method + Traffic Generation

Quick Start Guide To iFraming Offers

YouTube Auto-Subscriber & Redirector

Appraisal Site Backlink Submitter

Fake Referrer Script
Javascript Popunder Script

Content Cloaking Script