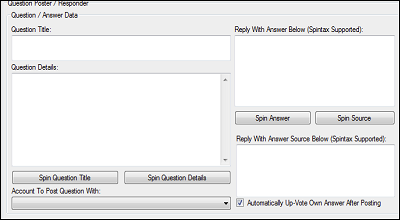 Description: Manage your Yahoo Answers accounts, questions & answers all in one with our scheduled automation tool.
Features Include scheduled question searcher, automated question poster / responder / best answer selector & rater / commenter, mass answer voter & more.
Full scheduling capability available with all features of this bot.

Run An Unlimited Number Of Accounts & Campaigns
Socket Based Bot Allowing For Extremely Fast Connections & Scraping
HTTP Proxy Compatible With Or Without Password / IP Authentication
True Multi-Threading On Compatible Features Up To 100 Simultaneous Threads
Full Screen Support / Resizeable Windows
Account Manager - Add / Load / Remove / Export / Export Disabled Accounts
Multiple Keyword Search Ability For Campaigns
Category Search Mode Ability When Looking Up New Questions
Token Support In Question Lookup Module To Find Easy Questions To Answer For Points Gaining (Polls/Surveys)
Supports All Yahoo Answers Sites (US, UK, CA, Worldwide)
Option To Save, Manage & Pre-Load Answers To Allow Quick Answering
Automatic Question Lookup / Wait & Reply Module
Semi-Automatic Mode Allowing Selective Questions & Answers
Automatic Mode Allowing Multiple Question Selection & Scheduling Of Answers
Option To Automatically Up-Vote Self Submitted Answers After Replying
Automatic Question Poster & Best Answer Selector With Comment, Rating & Up-Vote Options & Scheduling Available
Automatic Best Answer Voter Waiter - Program Automatically Waits Until Best Answer Can Be Voted If Time Frame Too Short
Full Answer Log With Export Capability To Show Previously Answered Questions
Previous Answers Stats Panel Allowing You To Automatically Lookup Your Best Answers & Up-Vote Counts
Answer Voter Module Allowing To Mass Up-Vote Own Answers From Multiple Accounts (Includes Down-Vote Capability)
Process Scheduler Allowing You To Run Processes Instantly Or Send To Scheduler With A Date/Time Selection
Full Settings Panel Allowing To Adjust All Delay Times For Human Simulation, Connection Settings, Scraper Proxy Settings, Page Sort Modes & More
Process Log Available To Show User Processes As They Run In Real Time
Automatic Error Logging Process Allowing For Quick Fixes Due To Site Updates
Text Spinner Support For: SpinnerChief, TheBestSpinner, X-Spinner, SpinRewriter, WordAI
Automatic Captcha Solving Support Using 2Captcha