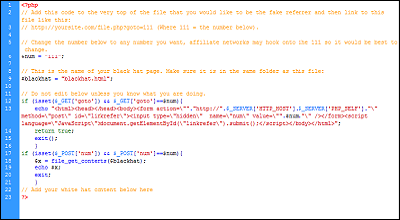 Description:Our forum is jam packed with useful scripts & applications for your Black Hat internet marketing campaigns.
From page cloaking scripts to bulk Bit.ly link generators, our forum is full of decent scripts and we are always open to suggestions should you wish for another script to be added onto the site
You will receive the full code for scripts and applications within our forum including support for setting them up and continued support for upgrading or adding additional features!!!
Protect your black hat landing pages, generate thousands of alternate links or even scrape a website to find a download page!
Check out the current scripts/apps available within our forum below.
Yellow Pages Data Scraper

Scrape company names, addresses, telephone numbers, website info & even email addresses using our exclusive deep scrape feature. Click Here To See A Screenshot

Twitter Follower Scraper

Scrape the followers of specified Twitter usernames on demand with this helpful little application. Click Here To See A Screenshot

Video Watermarker Application

Mass watermark your videos ready to upload to your content sources with ease. Accepts multiple watermark images & videos for bulk processing. Click Here To See A Screenshot

Scheduled Pinterest > Wordpress Poster

Create niche related blogs where you can send your Pinterest or other traffic to using our Pinterest To Wordpress Poster. Completely automated & allows for scheduling so that you can post as many or as little posts to your blog(s) each day. Keyword targeting & complete customization of posts also available. Click Here To See A Screenshot

CS Forum Finder

Find forums that can be used alongside of cookie stuffing using this unique tool. Supports multiple forum software & HTML / BBCODE supported forum searches. Click Here To See A Screenshot

Fake Traffic Generator Bot

Boost your site's views to generate fake traffic stats using this tool. Allows for proxy usage, multiple referring URL's & custom user agents. Click Here To See A Screenshot

Google Search Engine Email Scraper

Enter your keywords & this application will scrape URL's from Google & then go to each URL and scrape your highly targeted email addresses. Click Here To See A Screenshot

Google Suggestions Keyword Scraper

This application uses Google Suggestions to find additional keywords for your sites. These keywords are generated by Google as a suggestion as you type a search term into Google. Click Here To See A Screenshot

Hotmail Email Account Checker

This desktop application allows you to run all of your hotmail accounts through it & it will return the good & bad accounts. The application will also help prevent your accounts from being disabled due to inactivity! Click Here To See A Screenshot

MySpace Profile Image Scraper

Enter a list of MySpace profile ID's & this script will extract the profile image of each user for use with your account / profile creation needs.

Cloaking Page Script

Have a secret layer beneath your white hat pages that is password protected. Whether the visitor sees the WH or BH content the referrering URL will remain the same and your AM will never be able to gain direct access to the BH material!

YouTube Auto-Subscribe + Redirector

This script has since been developed and built into LinkRefer for dynamic page generation with just a single click but should you wish to use the standalone version of this script then it is here for use or customization.

Download Page Finder Script

Written in CURL, this page could save you hours of searching for a download page and hundreds of $$$ that could be evaded with a single click in our script!

Bulk Bit.ly Link Generator

Generate hundreds or thousands of Bit.ly links in just moments for your black hat uses!

These scripts simply scrape the surface of BlackHatToolz.com compared to what you will find inside the members area. Save yourself hours of manual work by either using our automation tools or requesting for a new one to be added to the site!