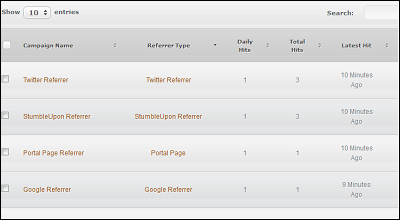 Description: LinkRefer is a click tracking portal that can additionally alter the referring URL's that your traffic has come from.
LinkRefer can forge the referring URL to multiple sites including Google, Twitter, StumbleUpon & more. You can even forge the keywords when using the Google referrer & the results will appear in Analytics also!
Standard tracking features also include referrer blanking & faking.
Google Referrer - LinkRefer can forge the referring URL of your destination links to Google & also include any keywords that you want the advertiser to see were used to search on Google to find your site!
Twitter Referrer - Forge your referring URL's to make it look like your traffic has come from Twitter. Some sites or offers do not allow certain traffic types but allow social, this is where LinkRefer comes into help!
Leak Referring URL - Don't mind sharing your advertising source and simply need a friendly URL and to track your visitors? Then this is the perfect option for you! Don't let your visitors find ways around clicking your affiliate link and spend just seconds creating a new link so you can sit back and watch those extra conversions come in!
Blank Referring URL - If you want to hide your traffic source for any given reason then you have the ability to do so with our script & it's secure checking features.
Fake Referring URL - Our script has the ability to fake the referring URL of any visitors to any site that you are in control of. Please note that the format of the fake referrer file must be PHP. Simply enter your link, your fake referrer link and a keyword and our script will give you a short snippet of PHP to add to your page!
Tracking Portal - Our script has a built in tracking portal that you can use that will remove the referring URL in all browsers and set it to the installation domain.
Automatic Script Updating - Our script automatically updates itself when a new version is available to save you the effort!