LinkRefer V5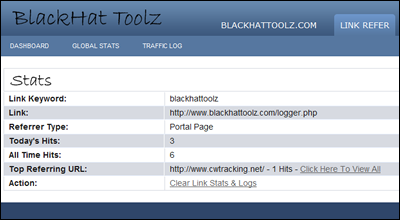 Description: LinkRefer is a tracking portal script that allows you to control your advertising campaigns the way that YOU want to run them!
LinkRefer has the ability to leak, blank or fake the referring URL, it also has a tracking portal script build into it and geo-targeting!!!
Track your visitors by clicks, IP address, referring URL and turn your ugly links into keyword friendly links!
LinkRefer gives you the ability to include keywords in your links to make your links shorter and/or keyword friendly without having any previous coding experience. The only code that we will ever show you within this script are your links to use when promoting and also a small piece of PHP to enter when using the fake referrer option.
An example of a link that this script generates is: http://www.yoursite.com/pages/keyword
All visitors to your created links are tracked globally and on a per link basis so that you can track hits to each link, referring URL's, IP Addresses, User Agents and more!
You can view a general stats feature for each of your setup link which displays today's hits, all time hits, the top referring URL to your link or you can go more indepth and check out each individual hit.
In the latest release LinkRefer now has the ability to enable geo-targeting with your link campaigns. You can now set one main country for each link and either choose a link to send all other traffic to OR send the other country traffic to a link stored in your database. If their is no link available for the visitor's country LinkRefer will send the user to a fallback link that you have setup!
New in LinkRefer V5 is also the ability to integrate LinkRefer with affiliate networks that allow 'postbacks'. This means that you can now use the newly integrated AJAX auto-updater to track your clicks & conversions and even turn on sound alerts for conversions! A reporting console has also been added so you can generate a report of your conersion rates, EPC and show visitor information on a per link basis.
Leak Referring URL - Don't mind sharing your advertising source and simply need a friendly URL and to track your visitors? Then this is the perfect option for you! Don't let your visitors find ways around clicking your affiliate link and spend less than 30 seconds creating a new link so you can sit back and watch those extra conversions come in!
Blank Referring URL - If you want to hide your traffic source for any given reason then you have the ability to do so with our script. We also have an option available to enter a fallback link as it is not possible to blank the referrer in all browser types and you can even track the hits of your fallback link too!
Fake Referring URL - Our script has the ability to fake the referring URL of any visitors to any site that you are in control of. Please note that the format of the fake referrer file must be PHP. Simply enter your link, your fake referrer link and a keyword and our script will give you a short snippet of PHP to add to your page!
Tracking Portal - Our script has a built in tracking portal that you can use that will remove the referring URL in all browsers and set it to the installation domain.
YouTube Portal Page - This option sends the user to a page that will show the user with a "Click Anywhere To Continue" link. When the user clicks, IF they are logged into YouTube they will subscribe to your YouTube channel when they click and then be redirected to your URL setup with this campaign. If they are not logged in they will be redirected to the same URL within 5 seconds. This can generate thousands of subscribers to your YouTube channel that you can post bulletins to.