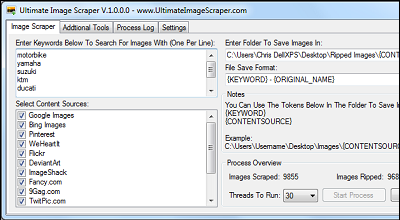 Description: Multi-threaded, Multiple Site & Custom Site Image Scraper.
Mass scrape & rip images from 15 built in scrapers & also keyword targeted images from custom sites.
This application has been developed to work within Windows operating system only.
Full customization of accounts & delays is available within all of our bots.

Multi-Threaded - Allows Up To 100 Simultaneous Threads
Supports All Image Types, Including Animated GIF's
Supports Scraping & Ripping Via HTTP Proxies (Including User/Pass Authenticated Proxies)
Includes Duplicate Image Remover Tool (File Hash Check)
Allows For Token Usage In File Download Folder & File Name Format
Allows For Custom Site Search Via Google Image Search (site:http://site.com/ keyword)
Full Process Reporting Log Available
Automatic Update Checking
Google Image Scraper
Bing Image Scraper
Pinterest Scraper
WeHeartIt Scraper
Flickr Scraper
DeviantArt Scraper
ImageShack Scraper
Fancy.com Scraper
9Gag.com Scraper
TwitPic.com Scraper
Lockerz.com Scraper
Minus.com Scraper

Fotopedia.com Scraper
GifBin.com Scraper

Imgur.com Scraper