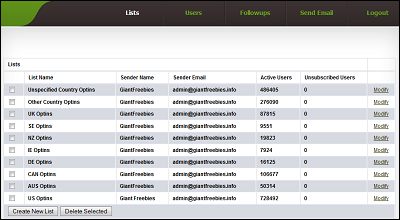 Description: Run an unlimited number of mailing lists with the ability to add followups & send emails instantly using a self-hosted admin panel.
Import users / Add users, set the from name/email address & hourly limits to ensure full customization.
Add tokens to your email to add a more personal approach to your marketing campaigns!
Run Unlimited Mailing List Campaigns
Send Mail Direct From Server Via PHP Mail

Add Unlimited Users Into Each List

Browse / Search / Add / Import Users

Followup Email Sending

Instant Email Sending

View / Browse Email Archive

Tokenizing Emails

Altering Sender Details
Altering Email Headers
Changing Sending Method